Combination Course
SIS50321 DIPLOMA OF SPORT (COACHING)
Complete Personal Trainer Course – Sport Development Pathway Program
Combine your passion for fitness with your love of sport!
If you're looking for the most comprehensive fitness course available, then our elite sports development Diploma program is for you. The fitness and sports industries are growing rapidly and the demand for appropriately qualified staff has never been higher. This course has been created in consultation with industry to provide graduates with a diverse range of skills, ensuring that they are equipped for career success. The course has also been designed to provide pathway opportunities for those wanting to move into higher education.
Key Areas of Study
Foundations of Fitness
• Exercise Assessment and Programming • First Aid • Body Structure and Function • Communication and Leadership
---
SIS40215 Certificate IV in Fitness – Personal Trainer
• Advanced Programming Techniques • Fitness Assessment/Testing Methods • Posture Training • Marketing and Business • Resistance Training
---
SIS50321 Diploma of Sport (Coaching)
• Olympic lifting • Plyometrics • High performance gym training sessions • Pilates • Physiological Testing • Drugs in sport • Leadership • Working with health professionals • Nutrition • Psychology
Courses Studied
If you share our passion for fitness and sport this program will be perfect for you! This 12 month program will see students undertake the following 'core' Certificate level courses:
---
Foundations of Fitness
This is not a full Certificate III in Fitness, however provides students with the pre-requisite units required for entry into the SIS40215 Certificate IV in Fitness. Students will achieve a SOA (statement of attainment) for the successful completion of the units of competency in this program. For more information on this program and Units of Competency click here
---
SIS40215 Certificate IV in Fitness
This qualification will allow you to work as a Personal Trainer. For more information on this course and Units of Competency click here
---
SIS50321 Diploma of Sport (Coaching)
This course targets individuals looking for a successful career in the sports industry. For more information on this course and Units of Competency click here
Career Outcomes
Work As A:
• Personal Trainer • Sporting and/or Facility Manager • Athlete/Performance and Talent Development Management • Strength and Conditioning Coaches – elite or local level • Competition Manager • Program Developer • Talent Development Manager • Sport Development Manager • Undergraduate study in Fitness, Sports Development, Teaching or Health • High Performance Coach • Talent Scout / Athlete Development
Entry Requirements
Successful completion of VFA Learning Pre-Training Review and approved Language, Literacy and Numeracy (LLN) Test.
Students must be 18 years or older.
To enrol into the Diploma level qualification evidence of successful completion of VCE or equivalent.
No ATAR score required.
Dates
Duration:
12 months Full Time
---
Intake:
Geelong campus only – please contact us to find out the next intake dates
Online Study
On-Campus with select subjects available online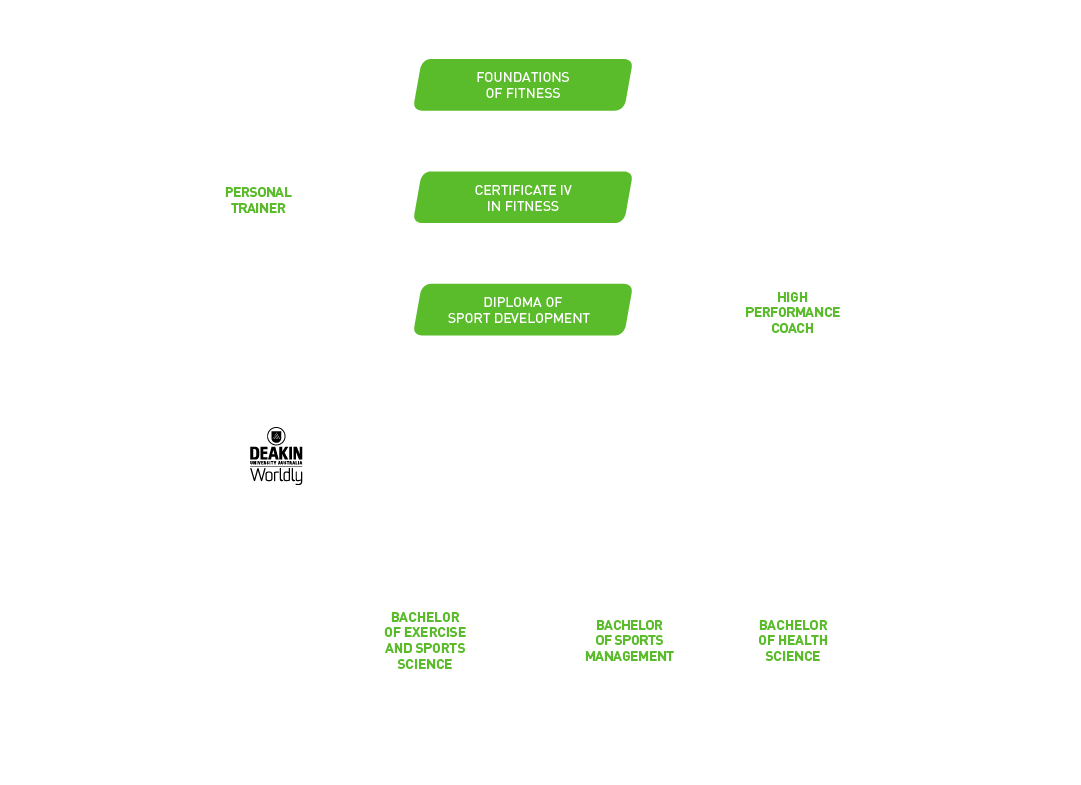 Fill in the enquiry form below and a VFA Career Advisor will be in touch with you shortly!
Learn More
By submitting this form, you agree to our use of your personal information in accordance with our
privacy policy
. This includes your consent for us to contact you to discuss education opportunities.